"What do I really need IT-wise to start my new business?" That is the question I was asked recently. It can be a big question, with a lot of opinions, but I thought I would give you my two cents as a small IT business owner.
First, you should know what kind of business you are going to be and determine a name. Before you fall totally in love with the name and start spreading it all over town, you need to shop for a domain that matches your name. Sometimes, you will need to change, tweak, or adjust the business name to find a domain that is available. This is the beginning of your business branding. A lot of small businesses fail to understand its importance. Branding is a huge part of your marketing, which you must do from day 1 to get your business off the ground. You want your website and email address to work with your business name. It's a red flag to me to see a business using a @gmail.com, @live.com or, God forbid, @aol.com as their official business email. It can imply you're inexperienced, unprofessional, or not taking your business seriously. Even if you are not ready to create a website, you will at least have the name in the future. For pricing, you can expect around $20 for the year, and email addresses can be as low as $2/address per month. GoDaddy also runs specials that can reduce this even more.
The next thing is what IT hardware you will need for your business. If you are running a garage working on vehicles, you might only need a single computer for the owner to do finances. A computer or maybe 2, and maybe a printer can print out receipts and estimates for the customers; the computer can also be used for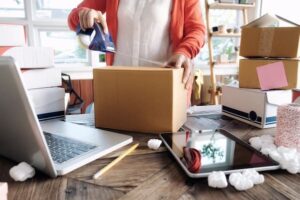 bookkeeping, ordering parts or customer keeping service history. If you are opening an insurance company or other professional services, where you will be on a computer all day, then the computer is the tool of your trade. Just like the mechanic needs specialty tools, your computer needs more attention to your individual business needs. You might also have multiple agents or employees, each needing the tools of their trade.
This is where you have the advantage of knowing Techno Advantage (Like what I did there! I thought so!). No seriously… I can step in to assist you to select the exact computer you need. Many salespersons at "Box Stores" will lead you to overspending due to it being the "latest and greatest", or you might go cheap and find yourself frustrated and disappointed. Just like a mechanic learns quickly that he can't loosen a tire with the wrong sized wrench, you need a business class computer, not a consumer level one. A mechanic knows daily use requires quality tools, because lesser quality tools may break or fall apart and lead to injury. The "thrill of a good deal" fades quickly when a computer crashes and fails completely in the middle of your big job. A "Great Deal" at a Wal-Mart for $300 comes with a processor that was slow 2 years ago, and slow hard drive, and no warranty. The speed of your computer could be the difference between giving an estimate over the phone and winning the client or calling them back to hear "Thank you, but we went with someone else already". On the opposite end of the spectrum, unless you are using AutoCAD, or are a graphics design company, you probably don't need that high-end gaming PC. Word doesn't get impressed by an incredible frames per second count.
When you begin your first business, you will definitely learn the meaning of "I don't know what I don't know" quickly. You will need the basics, such as office products, email, and bookkeeping. I recommend an Office 365 Business premium account, which will get you an exchange account (this is an email database that all of your devices can connect to) plus all of the software that you might need, including Outlook, Word, Excel, plus SharePoint. Just within Outlook there are so many features and tools for a small business. You can schedule appointments, send emails, track tasks, and attach notes to client/contact information. Plus, there are "add-ons" which are features that expand the usefulness of Outlook beyond just the "out of the box" items. SharePoint and OneDrive are cloud-based shared storage for sharing, storing, and backing up files. As point of reference, this runs about $15/month per computer/user.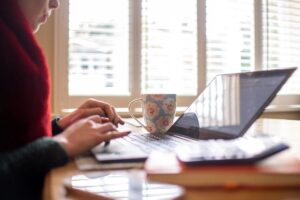 When it comes to bookkeeping and accounting, there are many choices available, and you will be flooded with suggestions. Some industries have specific needs to track inventory or to calculate cost of goods sold. Depending on your business, you might find Off the Shelf or Line of Business software will work fine. In fact, many small businesses will use a simple spreadsheet, such as Excel, to track finances until they get started and learn the business. If you decide to go with an accounting software, I recommend you look at QuickBooks. I don't offer QuickBooks subscriptions or receive any incentives for suggesting it, but you can't walk across the street without tripping over someone who could help you if you have a problem. (If you want to discuss the QuickBooks options, however, I can get you a name.)  If you go with a less popular accounting program, you might be stuck with their less efficient, hard to reach tech support if you have a simple question.
Ok, you have your computer, domain, and software, you're ready to start the business, right? Not quite. If you're opening a store front, you will make sure there's a lock on the door. Likewise, you need to protect all this technology stuff. An anti-virus program is a MUST. The Internet is full of bad guys and bugs. You need to protect yourself and your client data. The liability if you don't, could be enough to close your small business before you even get started. The media reports large companies getting hacked and exposing customer credit card numbers and personal data. This happens to small businesses, without the media hype. Any business that is storing client data should also talk to their insurance agent about cyber and data liability insurance.
Backups are next thing that you need on your list. After you get all your business together and everything working on your computer, the last thing you want is to lose it all. Computer hardware failure is not as common as it once was, however, hardware issues can still happen. These can be caused by power surges, accidents (dropped it), Malware/Ransomeware or simply hardware malfunction. This may sound like a lot, but it's just the cost of doing business. Just like you pay rent or the electricity bill, most of these services are subscription based, rather than a purchase-once expense. Your IT expense should be considered in your monthly allotments for expenses.
With most things, it's always good to have a partner to help you navigate your needs. Someone who can steer you in the right direction and give answers. We enjoy assisting start-ups in making smart choices, especially when that turns them into longtime clients. Let us know how we can help.